MUSEUM DESCRIPTION CHIMNEY ROOM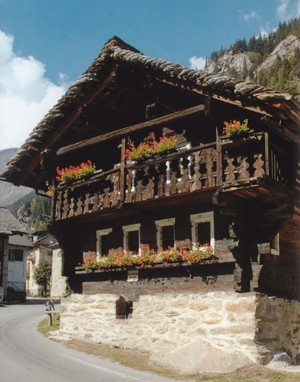 From the entrance you reach the chimney room, i.e. the place where the Walser used to cook the food (soups, polenta, cheese, meat, potatoes) and to feed the fire opening of the big soapstone stove "fornetto", the unique heating system of the house.
EXHIBITION ROOM
This was originally the house entrance, where items of clothing were kept, as well as a display cabinet with valuable objects, such as old books or coins, and blacksmith and tinsmith tools put on a work bench.
STOBU
It is a big room with an elegant wood panelling and a stove. This was the only heated area of the house and therefore people would eat, sleep and pray in it. Nearly all daily activities were performed in the "stobu".
CELLAR
It is on the lower floor and displays about fifty old reproductions and prints portraying Macugnaga and its inhabitants.
THREE ROOMS
Museum top floor The first room is dedicated to old professions (carpenter, cooper, shoemaker) and shows unique, functioning and perfect preserved tools.
The second room introduces bread making; a complicated work. Rye bread was baked only once a year and was the basic nourishment of the Walser population.
The third exhibition room shows some traditional clothes, objects and documents from the gold mines of Macugnaga, rare ethnologic and anthropological objects.